Nyoman
Posts: 69
Registered: Nov 2007

posted 11-18-2007 10:00 PM



---
As it seems I am the only member of this forum from Bali, I have been asked to present some examples and discuss the history and development of silver as an art form in Bali. If my posts are not well received, or considered boring, then a few subtle hints and I'll let this topic go, but I have been asked to do this, and in keeping with the forum's character of give and take, this is my time to give.

As the world's largest archipelago, Indonesia has its own natural resources of gold and silver, but extracting these metals is not easy, and until the advent of modern technology, it seems very little mining ever took place within present day Indonesia until the late 19th century. Two notable exceptions would be the gold and silver mines of Radjan, Lebong, or present day Bengkulu in southwest Sumatra and the mines of Sarawak, which today is actually part of Malaysia.

It has always been my belief that the Chinese and Indians, (particularly from Goa), were the first to bring such precious metals, and their value as a trade commodity into Indonesia with the advent of Chinese inter-Asia trade. It was during the later part of the Chinese T'ang Dynasty, or the 9th century AD, that archaeological evidence firmly supports some degree of regular trade with both India and China. While the some 15,000, (give or take, some go, and some are born almost daily) islands of present day Indonesia have vast natural resources, it was the spice trade that most fueled this burgeoning trade. The explosion of this trade occurred during what is called the Majapahit Dynasty of Java, and corresponds to the Song to early Ming Dynasty of China, roughly the 12th to early 15th century AD.

Following the Majapahit Dynasty, it was the vast migration of Islamic traders that eventually controlled this area, and that was followed by the first European settlements initiated by the famous voyage of the Dutchman, Cornelis (Cornelius) de Houtman who first arrived here in the very late 16th century. That voyage eventually culminated in the formation of the very famous VOC which was established in 1602. For the next 200 years, it was western trade that dominated. I apologize for all this history, but it is necessary to at least have a broad brush understanding of the outside influences that when combined with local indigenous cultures, resulted in the gold and silver artifacts from all periods of Indonesian history.

Logically, I should start by showing some of the very earliest pieces of silver and gold as made in Indonesia, but from a practical point of view, such objects are very rarely encountered outside of museums. So, I thought it might be more fun to start off with an object of great importance to the Balinese, and an object that is still made by master gold and silver smiths in present day Bali. Unquestionably, that would be the kris, or specifically, the handle for such kris.

In short, the kris is a stabbing weapon, a long dagger, or a short sword, often seen with a wavy blade, but not always, and is indigenous to the Malay, Southern Philippines and in particular, Indonesia. The topic of kris is exhaustive and complex. I can get into that as much as asked, but one can also search the internet and find a lot of useful information.

As many readers surely are aware, Islam forbids the depiction of human forms in its art. With the arrival of Islam in central and eastern Java, the remnants of the Majapahit Dynasty fled to Bali, which during the Majapahit era, itself became Hindu/Buddhist but also maintaining its animistic roots. The artistic traditions of Bali, in all forms, be it music, dance, or any visual art is assuredly tied most directly into the original Majapahit Dynasty which we regard today as Indonesia's Renaissance.

In a manner, it shouldn't be too surprising that in Bali, one of the greatest manifestations of silver work is the hilt, or handle for a weapon. As I understand, some very fine silver hilts for swords were made both by American, English, Dutch and French gold/silver smiths. As with the West, such finely hilted weapons were largely ceremonial and only worn on important occasions.

So, here is my first photo, and in Part II, if desired, we can discuss how this was made, when, where, and its significance:

IP: Logged
Nyoman
Posts: 69
Registered: Nov 2007

posted 11-23-2007 08:02 PM



---
Many thanks for the interest in this topic which is something I can offer some contribution. I will do my best to keep this interesting and informative.

Kimo, the figure represented in this kris handle is as you note a Hindu deity. This deity is known as Bhatara Bayu the God of the wind. Without question, this particular deity is the most popular as seen in both antique and modern Balinese kris handles. I cannot offer any explanation for the popularity of this particular God aside from what a few kris makers, or what we call Empu here in Bali have told me, and that is the belief that in forging the kris (an alloy of iron with nickel damascene), it is from the wind (driven by the bellows) that imparts the magical power of the kris into the blade.

So you can understand what a full kris looks like, I can offer this additional photo of a complete kris in our collection: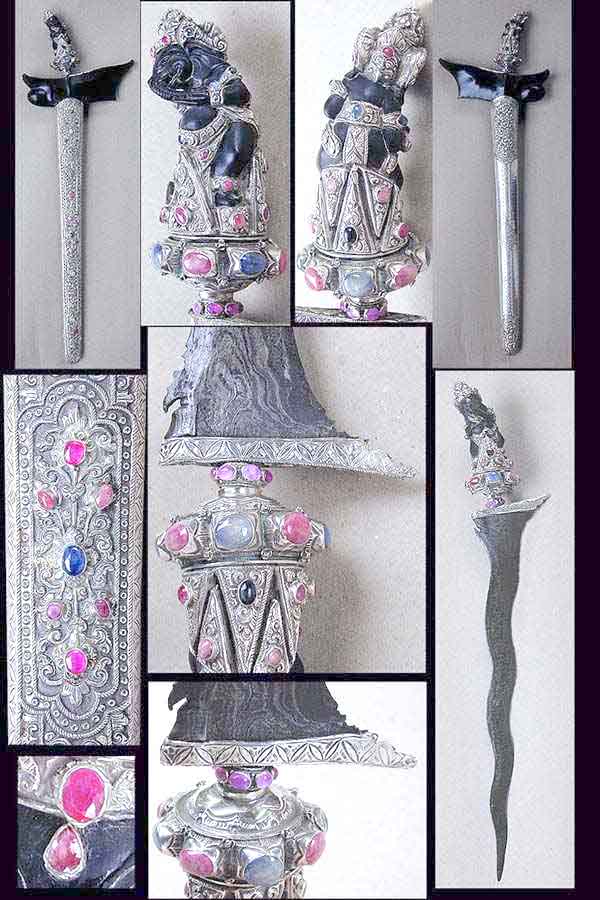 In order to fit in the allocated space, I had to shrink this photo down considerably, but I think the overall idea and components of what makes up a complete kris is readily seen.
The age of this first handle is from the early 20th century. Methods of making a silver kris handle vary from one maker to another. One common method is casting by the lost wax method, followed by hand finishing, chasing and application of filigree, beading, and settings for the stones. This is done in two parts, the lower and wide ring being separately fashioned. Another common method is by repousse working a flat sheet and then bringing the elements together. In that method additional decoration would also follow. Most always with this second method some vestige of the seams will be visible.
Another method to be found here in Bali, and that can be seen in my second set of photos, is silver as an overlay. In this case, it is silver overlay onto a carved irang wood handle representing Ganesha. Irang wood is our genus of ebony as found in our rain forests. The silver overlay can be found on ivory as well as bone carved handles. An exquisite example of that approach can be found in this kris handle which once belonged to a Raja in Klungkung. This utilizes both gold and silver as overlay: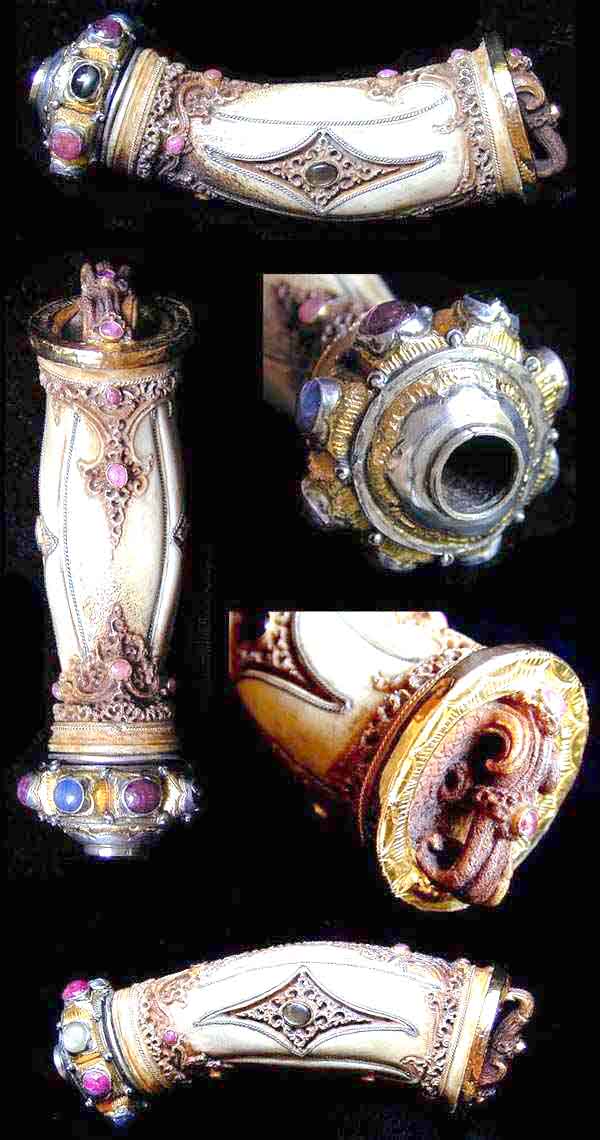 It was during the Dutch colonial period that marking of silver first became used by Balinese silversmiths, but that was only applied on silver made for export purposes. Bali did not completely fall to Dutch control until 1908, so this is rather new for us.
The mark to be found is typically a simple 800 to denote 800/1,000 purity. Balinese silver made for Balinese use is not generally marked, although I have seen more recently made offering trays which are marked, the presumption being that it is usable both by locals in their temples, or purchasable by tourists for their collections.
There is no purity standard per se in either Balinese silver or gold, nor is there any historical precedent. Majapahit silver coins are about 100% pure, and likely were fashioned from Chinese ingots. Conversely, Majapahit silver statues can be very low in purity, sometimes simply being added to bronze to make a very distinctive bronze/silver alloy which is very beautiful, especially with an aged patina. Today, the famed Balinese goldsmiths work almost entirely in 22k gold for their jewelry, and their silver can be of sterling quality, but often is not.
Kimo, I hope I have answered your questions. I plan to write more about Balinese silver in the near future as long as there is continued interest and I am not simply boring folks here. Kind regards, Nyoman

IP: Logged
Nyoman
Posts: 69
Registered: Nov 2007

posted 11-24-2007 07:58 PM



---
Dear Argentum, many thanks for your kind comments. I am flattered to say the least, and I only hope I can live up to your high expectations.

FWG, the pommel end of this handle or hilt is a continuation of the bone (or possibly antler as we have many species of deer (Kijang) here). It is carved in high relief. This style of handle is often called the Bali/Lombok style, Lombok being the island just east of Bali where there are also a large number of Balinese villages. This particular form can be found in either place, but as the Klungkung palace once ruled over Lombok, this form for a Raja of Klungkung makes perfect sense.

I will surely pass on your suggestion to my cousin. There is no doubt he would really enjoy (if not becoming home sick) to see the collection in the Chicago Art Institute.

I read the post about the "Yogya" tea set. I can offer the following information about that and if the moderators feel it is better to move my comments to that particular string, that is their decision.

Yogya is short for Yogyakarta an important university city located in south central Java, the island just west of Bali. Sometimes one will still encounter the Dutch spelling which is Jogjakarta. Kotagede is the name for one of the five districts of the Yogyakarta zone encompassing the main city.

Yogyakarta is well known to many Balinese for its universities, most especially the Indonesian Institute of the Arts (ISI), where both my older brother and brother in law, a national artist of Indonesia, I Made Djirna, graduated. For tourists, this is a must visit area if only to see the two temple complexes of Borobudur and Prambanan.

As already noted, this area is well known for its silver production, and the history of this goes well back into the 18th century, and the Dutch control (VOC) of this entire region. To my eye, the tea service already discussed clearly shows both Dutch and Javanese influence. The forms are Dutch, but the repousse decoration is mixed in that the floral and shell motifs seem Dutch derived, whereas the tampals or spikes of fire are clearly Javanese.

The name for TIK silver almost certainly is derived from the Javanese word tik, (as in batik) literally meaning to dot. If you note on that tea set, the background is entirely hammered with small dots to create that special effect. You can see the same with this small covered tik cup, also from Yogya in my collection. In this cup, you can also see a similar mix of influences in the repousse work. Incidentally, this covered cup is marked 800 rather than 850.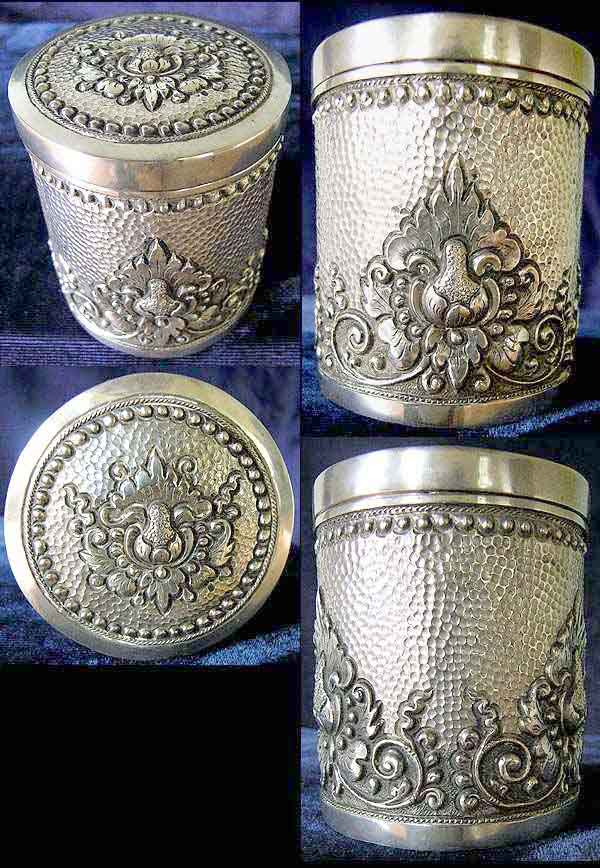 I suspect that due to the export trade of those silver products that they would often show up in Dutch and other European collections. That such a set could end up in Puerto Rico is not surprising to me either.

Kind regards,
Nyoman
IP: Logged