Hose_dk
Posts: 400
Registered: May 2008

posted 10-19-2010 02:22 PM



---
[07-0803]

What is wedding silver? I former days people put their values in items of precious metal. Buttons, spoons cups all daily items - but only used at special occupations. At weddings the happy pair received what was available - what the person could give. An item for use but also - and most important - for savings. I have several pieces containing the marks of occasion - wedding. Double initials. But please set your wedding silver in this.

Here we have Anders Jensen Busted, born 1714, master in Århus November 17th 1749 - dead 1768.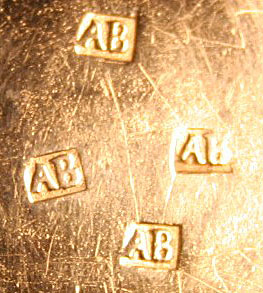 The 4 marks are under the bottom of a cup. Danish standard was 4 marks. 1. master 2. city 3. tax (month mark) and 4. guardein.
In Århus livet 3.500 people at that time - so selling silver, not very common, and only a few silversmith. So our friend is missing 3 marks - the guardein should set them. So what to do - he puts 4 marks. People did not know meaning, nature of marks. They knew that in Copenhagen finest silver had 4 marks. In fact all siver should bear 4 marks. Anders Jensen Busted solved problem by adding 4 times his masters mark.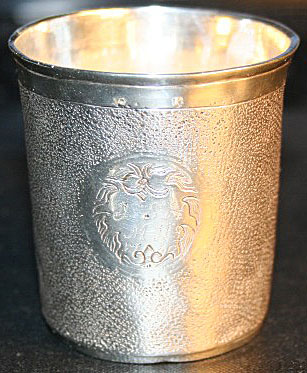 IP: Logged
Hose_dk
Posts: 400
Registered: May 2008

posted 10-19-2010 02:44 PM



---
The prik engravement dates this to 1760. Initials of the bride MND where D is corresponding to Datter. Meaning Daughter of. The N is first letter in her fathers name could be Nils or Niels or similar. And M is her first name - could be Maren, Marie or Mette or similar. Giwing her a name like "Maren NilsDatter" Her husband JSSH - I would expect S to be last letter for Søn (i.e. son of) where the first S being fathers name Søren, Sven or similar and J his first name Jens or similar. Giving Jens SørenSøn as a suggestion. The H however puzzles me. I will have to turn to church records from 1760 and find the happy couple.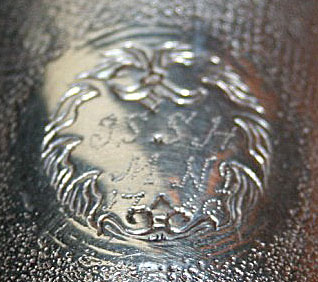 Name of bride and groom. Initials.
Somewhere in time this cup left Denmark going to US. I suppose that the family left Denmark to give it a try in the new world.
Today the cup returned to Denmark. Next time I go to Århus I will bring the cup and say - back again my traveling companion.
What a co-incident. Me looking at bib-bib

and the fact that I identified so that I could say - yes must have.
More research to come - when I find info. In between we take another piece. or 5.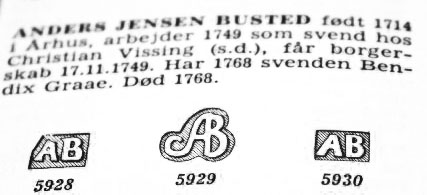 Look how Bøje made a drawing - not him but the illustration. A corner is missing up-left. Thereby identifying my cup whit the same mistake up/left corner. To much to be a ?. No the up left corner makes it certain.
IP: Logged
Postnikov
Posts: 133
Registered: Nov 2009

posted 11-27-2010 11:48 AM



---
Hi -

Here is a Russian tinder cord and match compartment present cigarette case with an alliance coat-of-arms (two noble families united by wedding).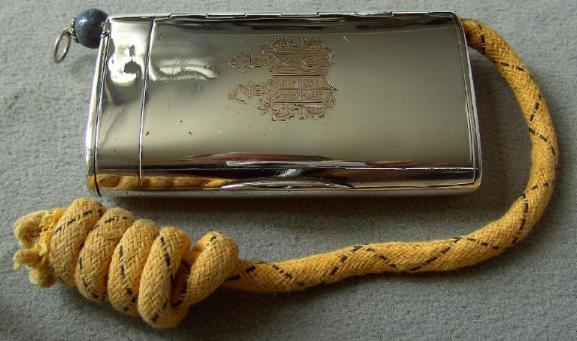 Regards
Postnikov
IP: Logged
Hose_dk
Posts: 400
Registered: May 2008

posted 01-15-2011 05:44 PM



---
Not wedding silver but a girl. Don't know whose daughter (D=datter) in 1739. But my latest buy is so nice. 8 cm high and 96 gram fine baroc.


Nice is it not?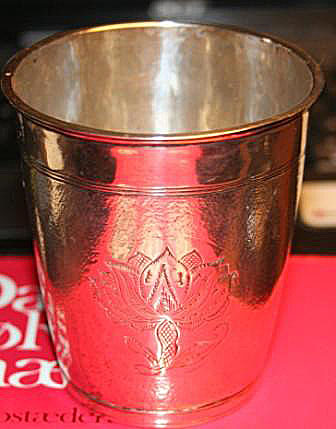 Made in Denmark in Næstved by Joen Joensen born in Næstved established approx 1700 works until 1751 and dies 1756 wife continues business.
Danish museums have various pieces of his silver.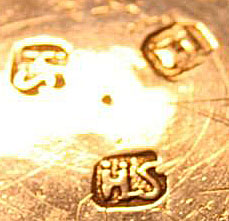 2 times masters mark and one time city mark
IP: Logged