posted 09-30-2007 01:07 PM



---
[26-1509]

Hello to you all,

Still I'm missing a knife from Christofle I'm just started with collecting some little things from this French (in Paris) made silver/ed ? dinner spoon and fork.

I just found information about the fork the pattern is mentioned decor : Rubans.

I found also a set (pictured) were this fork belong to.

What I can't find is the period this fork is made? I hope someone can tell me about this. In the fork is stamped (in a square)a libra sign, four stars and the figure 84.

Is it possible to also get any information about the figure 84 and what the four stars are meaning? Is this one made from silver or
(70 gram in weight) or silvered with a special silver alloy?

The spoon is 80 gram (in weight) and also stamped with a libra sign, four stars and the figure 34. I hope that someone can tell the difference between these figures 34 and 84.

I saw at a picture that the pattern of the spoon is used from the end of the 18 th century by other silver smiths and I think different countries.

With a lot of patience it succeed to make clear(?) photo's of the marks. (4 photo's are send with this topic).

I hope to get any reaction about these only spoon and fork. I have a long way to go to collect a totaly set of Christofle.(many years, that's for sure!)

But I'm proud to eat with Christmas with these one's in my hand, perhaps one knife will follow! I think with Christmas the set is completed (I always stay optimistic of course!).

Greetings Silverhunter!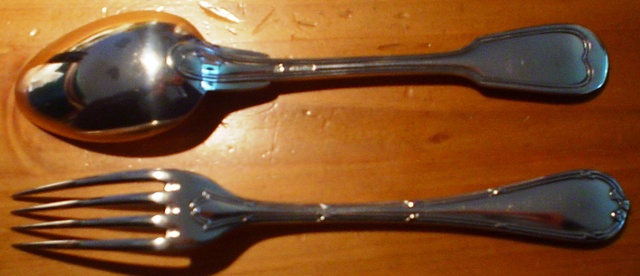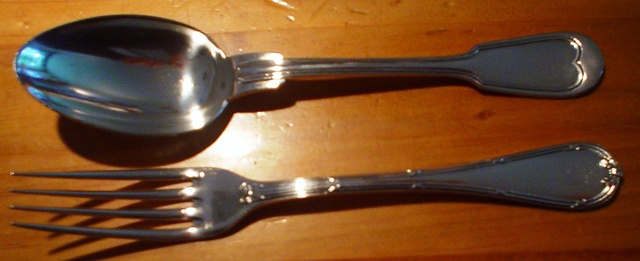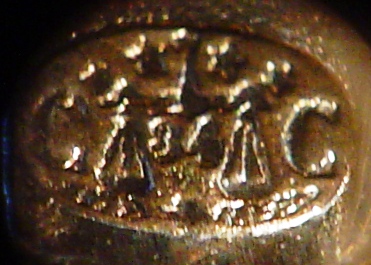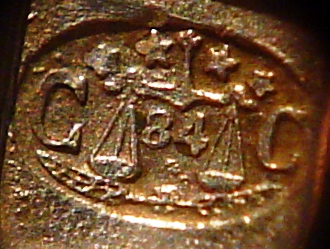 IP: Logged