abclovell
Posts: 14
Registered: May 2004

posted 05-27-2004 10:08 PM



---
[01-1517]

This is the first of two spoons I will be asking about.

The writing in front of the woman is hard to read but I think it says "St. Ta thaus". I am unsure of the material but the bowl of the spoon has a gold wash.

I appreciate all your help...
Linda in Maine...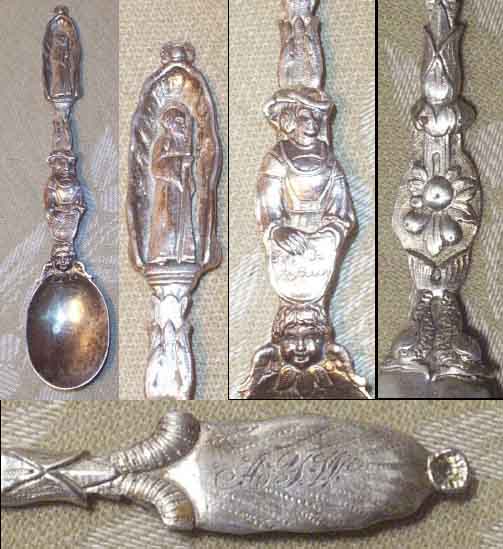 IP: Logged
Patrick Vyvyan
Posts: 640
Registered: May 2003

posted 05-28-2004 10:09 AM



---
This is a continental European version of an apostle spoon. They were originally made in sets of 13, with Christ and the 12 apostles, and often given as christening presents.

Your spoon may be a representation of Saint Thomas. Each saint is generally shown with an attribute, Thomas has a spear.

A detail of a similar example, but poorer quality, is shown at the Silver Spoon Museum: APOSTLE SPOONS

Apparently, according to Dorothy Rainwater, this is a Swiss Apostle spoon. You might check the upper and undersides of the bowl for marks.

IP: Logged