artlibrarian
Posts: 40
Registered: Nov 2004

posted 12-26-2007 08:38 PM



---
[26-1554]

Hello SSF members,

Happy holidays to all, I have not posted in a long time...but I do enjoy reading the posts on the forum and have checked the search feature prior to asking this question...

My mother purchased this set of vermeil spoons (I was with her) in an antique store in Palm Springs a few years ago and asked me yesterday to help uncover info about them out of curiosity. At the time we did not get any additional information from the store, they did not have any.

The box says Henri Pfenninger, Mulhouse. From my research, I gather that is the name of the retailer and Mulhouse is a city in Alsace. I believe the standard mark is 19th century French, I checked my books (Tardy, Wyler) and it looks like an export mark (the ones illustrated from 1879?) but I am uncertain. I am wondering if anyone here can help to identify the maker's mark? I am at a bit of a dead end at this point so I thought I would put it out there.

As always, the help on the forum is much appreciated. Thanks, Rebecca.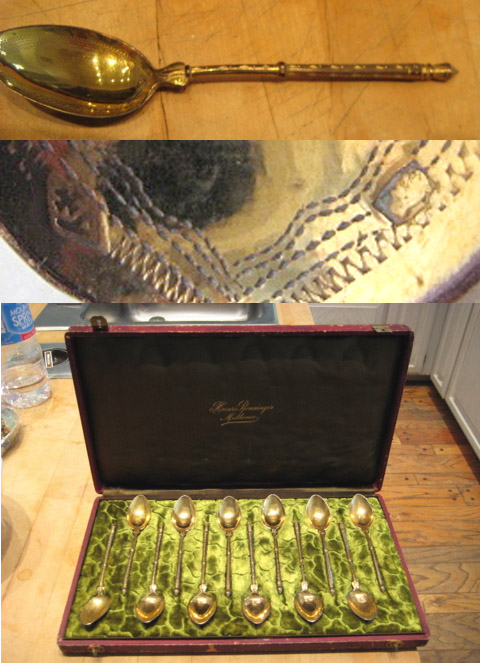 IP: Logged
silverhunter
Posts: 704
Registered: Jul 2007

posted 12-30-2007 05:41 PM



---
Nice set of spoons, I tried my best to find the name but I found only a few other artistic "pfenninger" names I found.

A silversmith E.Pfenninger works in Australia (now a day)perhaps family relative?

Leonard Pfenninger 1741-1811 worked in Switzerland and made gravures. Not so far from Mulhouse, so who knows?

Can you send another photo, if it's possible of course for I only recognize a crescent moon and a cross.

I hope you will, success with the solution and enjoy the hobby.

I follow the topic!


IP: Logged
Kayvee
Posts: 204
Registered: Oct 2004

posted 12-31-2007 10:18 AM



---
Yours spoons are indeed late 19th C French, made post 1879 for export as indicated by the Mecury head facing left in a barrel-shaped reserve. They are of 800 standard silver. The Mercury head should have a 2 under his chin. The style is called "a la Russe," popular in the 1870's-1890's when everything Russian was trendy. They have an attractive matte vermeil finish. The maker's mark is in a lozenge-shaped reserve. I can make out the maker's symbol which looks like a Maltese Cross, but not the initials. If you can see at least the first initial you might be able to find the maker on the French Ministry of Culture database for maker's marks. I agree that the name on the inside of the box is the name of the retailer.

IP: Logged
artlibrarian
Posts: 40
Registered: Nov 2004

posted 12-31-2007 01:28 PM



---
Thanks to both of you for responding. I love the SSF! Kayvee, I really appreciate the confirmation and info you provided, plus your suggestion about the ministry of culture website was excellent (although I couldn't find a match for the maker this time). Silverhunter, these were the best of my photos, next time I visit my mother's house I will see if I can do better.

Wishing all a very happy new year and thanks again!

Rebecca

[This message has been edited by artlibrarian (edited 01-01-2008).]

IP: Logged