Paul Lemieux
Posts: 1770
Registered: Apr 2000

posted 07-10-2020 11:09 PM



---
I recently purchased this c1900 silver box by French maker Frédéric Stoll. Perhaps a table snuff box or small jewelry box (4" x 3"). It has hand-chased seaweed (one of my favorite motifs) and a mother-of-pearl plaque.

There are several areas with a sturdy black encrustation. I'm usually good at cleaning any kind of problems on silver, but this one has me buffaloed. I don't know what it is--perhaps very heavy tarnish, but some of it also occurs on the mother of pearl, so...?

It is unaffected by Simichrome, Tarn-X, regular silver polish, and acetone (I optimistically thought it might be an acrylic lacquer or paint of some sort). Various polishing cloths merely give the gunk a glossy surface. I can chip off a couple edges with my fingernail here and there but for the most part it doesn't budge. Normally, I would simply sand off the offending substance and restore the luster with hand polishing. However, it has a satin finish that any abrasive will ruin. And if it wasn't for the gilt interior and MOP I would try pickling it and restoring the patina.

Has anybody encountered this before? Aside from scratching away micron by micron for hours on end, like some prisoner tunneling through a wall with a demitasse spoon, does anybody have any suggestions?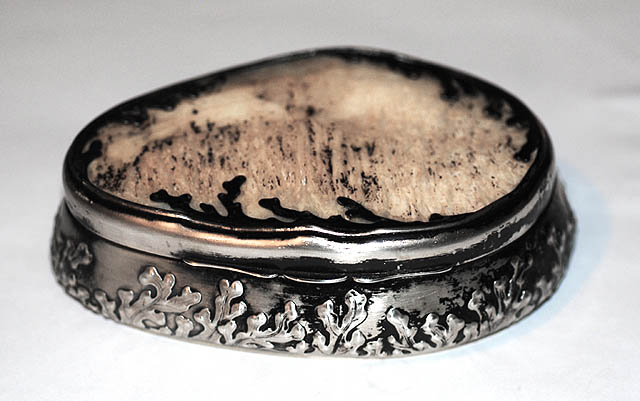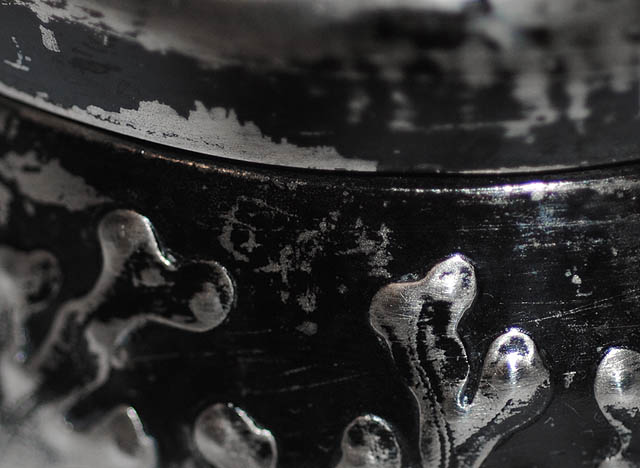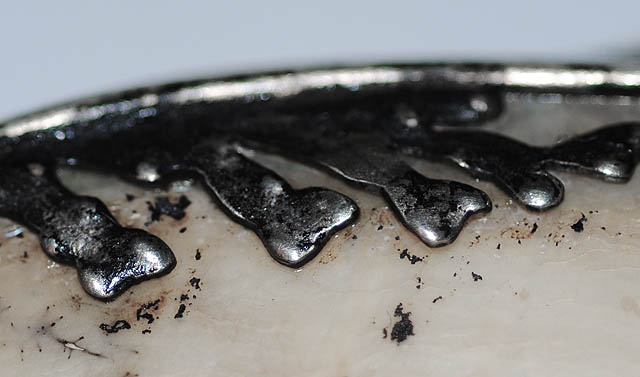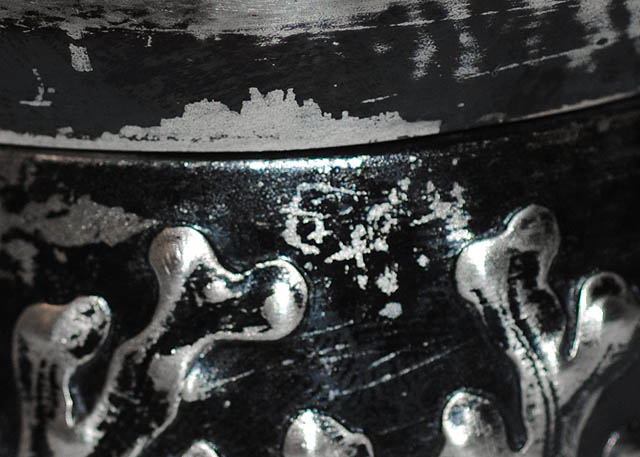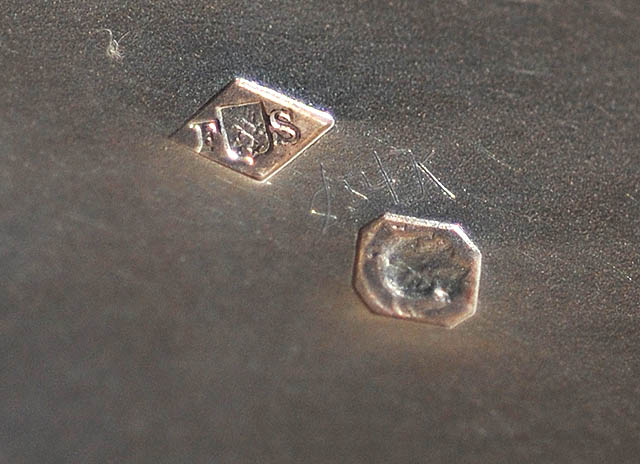 [This message has been edited by Paul Lemieux (edited 07-10-2020).]
IP: Logged
Scott Martin
Forum Master

Posts: 11377
Registered: Apr 93

posted 07-16-2020 12:15 PM



---
I have been giving this some thought. Not much comes to mind.

I find myself wondering if your item might have been in a fire?

Perhaps some heat and a soft wire brush. The brush will have to be harder than a toothbrush but soft enough not to damage the silver.

IP: Logged
Polly
Posts: 1939
Registered: Nov 2004

posted 07-16-2020 03:20 PM



---
You're sure this isn't some sort of enamel or deliberately applied coating? I expect you've thought of that yourself, and decided it isn't.

IP: Logged
Paul Lemieux
Posts: 1770
Registered: Apr 2000

posted 07-27-2020 11:04 AM



---
Polly, I did wonder about that too, which is why I've decided to just leave it alone. It would have made more sense to me if the MOP didn't also have traces of the black substance--all black with contrasting MOP would be pretty cool. But maybe the gunk on the MOP is something unrelated and the rest of it was indeed originally oxidized a dark black. Perhaps I can clean the MOP and oxidize the rest of the silver and see how that comes out.

Unfortunately I found only 1 other example of the maker's work, something quite different, so it's hard to say what styles and techniques the maker specialized in.

IP: Logged