Scott Martin
Forum Master

Posts: 11377
Registered: Apr 93

posted 09-14-2018 01:03 PM



---
Captain John Parsons Smith presentation silver footed salver

English sterling silver footed salver was presented to Captain John Parsons Smith by the Passengers of the Pennsylvania from New York to Liverpool in November 1836. It has London hallmarks with the makers mark for William Ker Reid and the date letter for 1835. Weighs 42.20 troy ounces. Measures approx. 1 5/8 inches tall by 13 7/8 inches diameter. The Pennsylvania suffered a horrible fate during the hurricane of January 7th & 8th, 1839 wrecking and leaving only survivor/witness account (see below).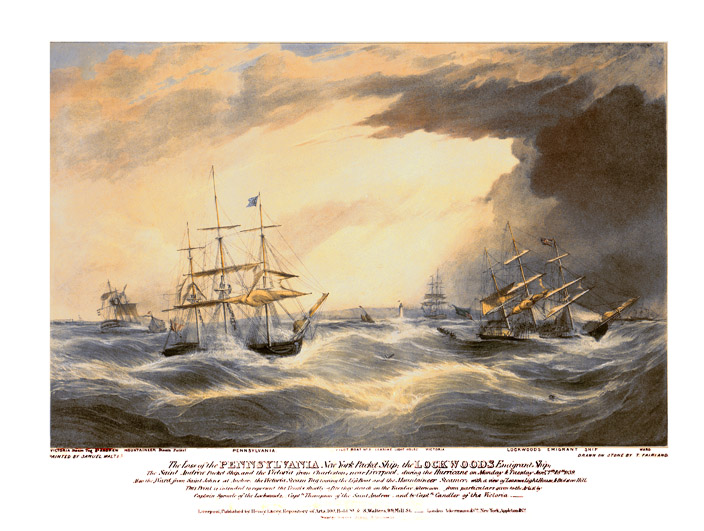 Excerp from:
NARRATIVE of THE
DREADFUL DISASTERS,
OCCASTONED BY THE HURRICANE,
WHICH VISITED LIVERPool, AND VARIOUS PARTS OF
THE KINGDOM,
on
THE NIGHTS OF SUNDAY AND MONDAY."
JANUARY 6TH AND 7TH, 1839.
Published 1839
quote:

---

The wreck of the Pennsylvania

The fine hotel known as Leasowe Castle [on the sea shore between Wallasey Village and Hoylake] has since the hurricane, been the scene of great and melancholy interest. On Thursday it being known that and inquisition would be held at the Castle on the bodies picked up on the immediate shore, the interior of the Castle was crowded in almost every apartment, and many visitors sauntered about in the pleasure grounds, or strolled on the shore below, viewing the scene of devastation. In one of the out buildings [a stable] lay the bodies of three of the sufferers out of the ship Pennsylvania, and in an apartment in the house lay the body of another. Those in the stable in the wet clothing in which they were picked up were the bodies of Mr Edward Lamb PARSONS, a merchant of New York, tall slender make, fashionably dressed on his person lay a small Indian rubber of Macintosh life-preserver, found in his breast, the cloth sewn in tubes, but apparently not inflated, and too small to be efficient had it been so, he also had a considerable amount of property. Another body was that of Mr SUITOR, a cabin passenger, a fine young man of dark complexion with whiskers. The other body was the body of the mate, Mr BLYNDENBVRGH, a stout man in seafaring garb and boots. The body in the house was that of Mr DOUGLAS, also a cabin passenger, he was stripped, and covered with a blanket, attempts having been made to restore animation. Amongst those present at the inquest was a tall good-looking young gentleman, named THOMPSON, the only survivor out of the boat in which those named and about eight others perished.

The following evidence taken on the inquisition details not only the accident by which the parties named lost their lives so late as Tuesday afternoon, but furnishes in the evidence of Mr THOMPSON, the sole survivor, some painful particulars of the wreck of the vessel :-

Mr John CONNOR, merchant of Manchester identified the body of Mr PARSONS, who he believed was about 32yrs of age. He also knew Mr DOUGLAS, whose body was lying in the Castle. and who was, he believed about 35yrs of age and a partner of the house of Thompson and Co, of New York.

Mr Henry Graham THOMPSON and said, "I was a cabin passenger in the Pennsylvania, which was a first-class American packet-ship. We sailed from Liverpool on Sunday the 6th instant. Mr William DOUGLAS, who was lying dead in the house, Mr SUITOR [a Scotch gentleman, who resided chiefly in South America] and Mr. BLYDENBURGH, the 1st mate, both lying dead in the stable were on board the vessel. The ship sailed down the channel till she was off Point Lynas when the gale came suddenly at about 11pm. It blew a complete hurricane and soon carried away our sails, and many of our spars. I was sea sick and being below part of the night did not see all that occurred. The storm continued throughout Monday, and we did not know where we were the spray being so thick, we were, in fact, drifting at the mercy of the waves, it was impossible then to set any other sails, and no man could stand on decks. We passed another night [Monday] on board in the same dangerous state, and expected to go to pieces before morning. On Tuesday morning we found ourselves off the Ormsheads, towards afternoon we got some sails set and ran before the wind [the witness here must be mistaken, as a lee-shore was not far distant, the probability is that the ship was laid to, as close to the wind as possible, but that she was drifted to the eastward.] We at length [he continued] got ashore. The Light Ship was not previously to be seen. Our ship struck where she now lies opposite the township of Wallasey. She thumped so hard that the mate said he feared she would soon go to pieces, her timbers soon after gave way. Some of us in the afternoon took to the boats that hung over the stern, I think there were 10 or 12 in the boat, the captain J. P. SMITH told us to take the boat, and take as many passengers as we could. The deceased Mr PARSONS, Mr. W. DOUGLAS a Mr BARROW [not found], myself and about 7 others went in the boat. It was about 3pm, the captain remained on board as did most of the crew. We made for land, about 3 miles, when we had got within a mile of it the boat was swamped. The waves rolled so high that one of them took the boat by the stern, and filled her so high as to push her bow under water. We did not attempt to pull her with the oars, but, only to keep her in the direction in which the waves run, as she would have instantly upset had a wave struck her on the side. She filled with water and I being in the bow was thrown by the shock into the sea. When I recovered and found myself above the wave that had filled us, I was some yards astern of the boat, in which I saw the remainder of the men. A wave broke over me and when I looked again, I saw the boat upset and 3 or 4 of those who had been in her holding on by her keel. I saw Mr PARSONS and Mr SUITOR in the water, they both afterwards had hold of me, Mr SUITOR held me some time, but I dove under the water to make him let go, and he quitted his hold. I saw that he was perfectly sensible at the time, and I pulled him under the water to get clear of him, I saw nothing more of them till I saw their bodies. I had possession of my reason all the time, I did not swallow any salt water and I consider myself a good swimmer."

John ARMITAGE, a labourer, saw the boat coming on shore full of men, and saw it afterwards upset about 60yds from shore. It was about 3pm, he followed it as it drifted, expecting to pick up some of the men if they came near the shore, there was another man with him. He saw two of the men from the boat swim towards the shore and gain a bank near it, he and his companion stood by to receive them, up to their middles in the tide-way. There was a gutter formed by the tide between the witness and the men. They fought over the bank into the gutter which was very deep, exhausted and benumbed they went down and came up again, and struggled with their arms attempting to swim. He and his companion went further into the water, and tried to get them out, but they could not and they disappeared. Witness and his companion [a youth] walked about to see if the waves would bring them ashore, and saw one of the corpses, 20 or 30yds from the side, went after it and with the assistance of the boy, William DODD, drew it out, finding no sign of life they carried the body to Leasowe Castle. It was put into the stable and was the body of Mr PARSONS. The property found upon him in the presence of the witness was £108-10s in gold. and two half sovereigns and 18s in silver, also a bunch of keys, a penknife, a pencil, gloves and a handkerchief. The property was delivered to Mr Louis BUZZARD, the landlord of the Castle.

Samuel ARMITAGE said, he went down to the shore to assist, along with the last witness, and they had just got Mr THOMPSON [the only survivor] on shore, when they saw three men on the boat's keel. They were washed off and two of them were alive, and stood on the bank till they came to the gutter, where they were drowned. The deceased Mr PARSONS, sunk out of sight several times before he altogether disappeared and witness followed him. They tried hard to save him by taking hold of each other's hands but could not. Witness at length saw one of them appear close to where the boat had drifted, and assisted his companion by locking hands to get him out. He was quite dead. He had on a jacket, two red flannel shirts, blue trousers and boots. They took the body to the castle, this was Mr BLYDENBURGH. Mr JONES, keeper of the Leasowe Lighthouse gave evidence to the effect that he picked up Mr DOUGLAS floating on shore, and, finding some slight indications of remaining vitality, with assistance, carried him promptly to the Castle. At the inn every possible exertion was made to restore animation, by stripping him and placing him before a large fire in a blanket and rubbing with hot salt in flannel, but without any appearance of returning vitality. He was alive, until they had nearly reached the Castle, Mr LYTHGOE a surgeon of Wallasey, afterwards arrived, and made some subsequent endeavors to restore him, but all too late.

This being the whole evidence, the coroner summed up in a brief and able manner, and the jury returned a verdict accordingly, - to the effect that all the deceased had been, "accidentally drowned."

Mr THOMPSON the survivor from the boat left instructions at the inn for the respectable burial of the remains of Mr DOUGLAS and Mr SUITOR, and an order was received from Liverpool for the interment of Mr BLYDENBURGH. The body of Mr PARSONS was conveyed from the Castle in the hearse to Seacombe, immediately after the inquest, and thence to Liverpool.

The fate of the passengers and crew of the Pennsylvania, 14 including the captain and 1st and 2nd mates were drowned, 26 were saved. Those on the rigging during the night included the stewardess a native of Shropshire, [who survived] those who perished from starvation and the effects of the cold, 2nd cook, John LENYA, 2nd steward Dewit REITNER. Those rescued included 3rd mate Mr RICHARDS, Mr ESSEX, Chief steward, and the stewardess.

Mr RICHARDS, 3rd mate of the Pennsylvania, son of the late respected Silas RICHARDS Esq, gives the following account of the melancholy event:- "At about 11.30am on Sunday, Captain SMITH came on board in most excellent spirits and desired the ship to be got under weigh immediately, which being done, we had a fine run, with a south wind as far as Point Lynas, which we reached by 9am, when a dead calm came on for 10 mins, at the expiration of which it began to blow very fresh from the south-west. We then close reefed our topsails, furled the mainsails and endeavoured to reef the foresail, but, failing were compelled to furl it. Things continued in this state till 2am, on Monday, when the wind changed to the west and blew a perfect hurricane, carrying away our fore and misentopsail yards, taking the maintopsail clean out of the boltrope, and blowing the courses, though furled at the time into mere ribbons. At daylight we found that our foreyard was very badly sprung. During the whole of this day we were employed in clearing the wreck and wearing the ship every 4hrs. About 2am on Tuesday we succeeded in bending a new foresail to run up with, when daylight came we made every effort to regain the harbour, keeping an anxious look out for the Light Ship, and following in the track of the LOCKWOODS, which kept about half a mile ahead of us, but being bewildered by the absence of the Light Ship, we dropped anchor abreast of Hoylake beach, 2 or 3 miles from shore. When. we had got about 30 fathoms of cable out, the chain snapped, and the ship after drifting for 12mins to leeward, struck very heavily on Hoyle Bank, and after thumping 8 or 9 times, filled. When she had thumped 2 or 3 times, the 1st and 2nd mates, 5 of the crew and 5 passengers went off in the jolly-boat. As soon as she filled we cleared away the long-boat, but, to our consternation we could not find lines to hoist her out with; and just as we were straining every nerve to hoist her out by main force, the vessel shipped a heavy sea, which staved the boat and bruised Capt SMITH very much, on which he made an attempt to spring into the main rigging, but, failing, he fell down between two water casks, when she shipped another tremendous sea, and Capt SMlTH exclaiming "Oh! my God, " was washed overboard, and never seen more. This was at 3pm. Just before the sea came I ordered the men into the rigging, to save themselves, and I followed them myself, when we finally took to the main and misen tops, and wrapped ourselves up in sails, for preservation from the weather, and in this condition we remained till 10.30am, on Wednesday, when we were rescued from our perilous situation, and put on board the VICTORIA steam-tug, which brought us all to Liverpool, except three of the crew, who were starved to death in the rigging during the night. I ought to observe that the Magazine life-boat would not have attempted to render us in the least service if they had not been shamed into doing so by a small green gig, which succeeded, after a desperate effort in reaching us."

---

Tales of shipwrecks and adventures at sea:
being a collection of faithful narratives of shipwrecks, mutinies, fires, famines, and disasters incidental to a sea life:
together with celebrated voyages, amusing tales, tough yarns, and interesting anecdotes
by James Lindridge
Publication date 1847
quote:

---

The extraordinary interest which was excited by the lamentable effects of the dreadful hurricane of January 6th and 7th 1839, will render any apology unnecessary to our readers, on introducing to their notice the melancholy wrecks caused by the devastating gale, in the neighbourhood of Liverpool, where so many fine ships fell a sacrifice to the storm-more particularly the Pennsylvania, Lockwoods, and St. Andrew."

We proceed to give, such accounts as were then compiled of the disasters which befell these vessels.

THE WRECK OF THE PENNSYLVANIA

This fine ship had been on the station about four years. She was a remarkably powerful well-built vessel, and her commander, Captain Smith, was universally esteemed, and his WRECK OF THE PENNSYLVANIA, LOCKWOODS, melancholy fate has been as universally lamented.

The Pennsylvania's day of sailing was the 25th of December, Christmas-day, on the morning of which she left the dock, and proceeded, in tow of a steamer, to the mouth of the river. She was tugged, along through the bright waters, her tall taper masts and slender spars shown in beautiful, relief against the Cheshire promontory, as they were partially illumined by the almost level beams of the winter sun, which was just rising above a few dark clouds in the south-eastern horizon. A sudden shift of the wind, which veered round, and began to blow in heavy gusts from the north-west, seemed to determine the commander not to proceed to sea on that day. The steamer was dismissed, the anchor was dropped, and the Pennsylvania rode in the stream. Here she remained in order to take advantage of the first favourable wind.

On that fatal morning she put to sea shortly before twelve o'clock. After discharging the pilot, she made an extremely expeditious run down the channel, and was off the Skerries about ten o'clock at night. At midnight the wind began to rise from S. S. E., and orders were given to take in the main top-gallantsail. The wind continuing to increase its violence, they close-reefed topsails, furled the fore and mainsail-jib, and, in this state, continued making considerable progress until four o'clock in the morning, when a perfect hurricane prevailed, the wind blowing S. W. During its continuance the fore-topsail, as also the mizen-topsail, gave way; and the foresail, mainsail, and jib were blown into ribands. Soon after the main-topsail shared the same fate. The vessel was then at the mercy of the elements, the sea making tremendous heavy breaks over her.

When daylight appeared on Monday morning, the forestaysail was bent. She was kept with her head to the southward. In this state she lay-to during the whole of the day, and the greater part of the night. On the morning of Tuesday she bent her foresail, and Captain Smith made the requisite preparations for putting back. She ran before the wind in excellent style, until they made the Great Ormshead, when the captain shaped his course for the light-ship, and not finding it, hove-to. About ten o'clock, in the anticipation of meeting with a pilot, he proceeded onward, when the St. Andrew and the Lockwoods appeared in sight. At this time the lead was put in requisition, and, finding plenty of water, she continued her course. About noon they got into ten or twelve fathoms water. At half-past one, they made Hoylake, when the larboard anchor was thrown with a sixty-fathom cable, and before the other anchor could be got over her, she swung with her head to the wind, and struck on Hoyle-bank. Strange to say, the St. Andrew and the Lockwoods struck on the same bank, not more than half a mile from each other, the Pennsylvania being in the centre. After striking, and owing to the violence of the gale, which brought her into collision with the bank, against which she struck with great force several times, she filled rapidly with water.

At this eventful crisis, she being then about three miles from the shore, a brief consultation was held with the passengers; the result was, that Captain Smith ordered the jollyboat to be launched, into which, Mr. Parsons, of Manchester Mr. Barrow, of New York, Mr. Douglas, of New York, and Mr. Suiter, of South America, and another gentleman entered, accompanied by the chief-mate, Mr. Blightenburgh, and a young Scotchman named Downy, together with five of the crew. The ill-fated boat did not long live in the tempest. About midway between the vessel and the shore she swamped, and all were thrown into the foaming element. Two of the passengers, Messrs. Thompson and Douglas, had taken the precaution to provide themselves, with swimming-belts, and they sustained themselves; but the rest of the poor fellows, after struggling in vain for some time, sank to rise no more. Mr. Thompson, finding it hopeless to contend with the waves threw himself on his back, and, supported by his belt, trusted to the waves to carry him onward. As the tide was coming in, he was propelled with considerable speed, and eventually, much exhausted, reached the shore. His fellow-countryman, Mr. Douglas, was less fortunate: he early exhausted his strength in a useless conflict with the waves. He succeeded in reaching the shore, but so completely exhausted, that nature sank under the trial. He was immediately conveyed to Leasowe Castle, where every attention was paid to him, but he only survived his escape a short time. He was a native of Dumferline, in Scotland, and was afterwards interred in Wallasey churchyard, together with Mr. Suiter, his unfortunate, fellow-passenger, whose body was cast ashore on the beach opposite Leasowe. The funeral was attended by a number of the friends of the deceased from Liverpool.

After dispatching the jolly-boat, Captain Smith ordered the long-boat to be got ready, when, to their indescribable agony, they could not find the line for lowering her into the sea. After some delay, however, she was got ready, provided with a rudder, oars, and other requisites; but in the act of lowering her, the ship heaved a dreadful sea, which stove in the boat, and thus cut off the only prospect of escape. The same vibration of the vessel threw Captain Smith with great force on deck: he lost his footing, but, on regaining it, another sea swept over the devoted ship, threw him with great violence between two water-casks which were rolling on deck, and, immediately after, he was swept into the foaming abyss beneath. The crew then got into the rigging about three o'clock in the afternoon, where they remained from that hour until the following morning, about ten o'clock. Their sufferings during this period, without food or nourishment of any kind, exposed to all the horrors of a night unexampled for severity, have hardly ever been surpassed. Among those on the rigging during the night, was the stewardess, a native of Shropshire, who survived its severity. Three poor fellows, however, John Lenya, the second cook; Dewit Reitner, the second steward; and a seaman, sank under the accumulated sufferings produced by the storm and intense cold. They were literally starved to death.

About ten o'clock on Wednesday morning, the Victoria steam tugboat, which lay at anchor all night in the vicinity of the wrecks, within hearing of the sufferers, but unable to render any assistance, with great difficulty succeeded in reaching the Pennsylvania. The Victoria rescued twenty-five of the survivors, including the third mate, Mr. Richards, a highly intelligent young seaman; Mr. Essex, the chief steward; the stewardess, and twenty-two seamen. The total number of persons on board the Pennsylvania was forty, fifteen of whom perished. The merit of rescuing the remainder, (with the exception of Mr. Thompson,) belongs to those who manned the tug-boat.

The letter-bags recovered from the Pennsylvania were taken to the office of the consignees, Messrs. Wildes, Pickersgill, and Co.; and, as may be imagined, in woeful plight, saturated with water, and the superscriptions of many of the letters nearly obliterated.

Mr. Richards, the third-mate of the Pennsylvania, and son of the late respected Mr. Silas Richards, gives the following account of the melancholy event:
"About half-past ten a.m., on Sunday, Captain, Smith came on board in most excellent spirits, and desired the ship to be got under weigh immediately, which being done, we had a fine run with a south-west wind as far as Point Lynas, which we reached by nine, p.m., when a dead calm came on for about ten minutes, at the expiration of which time, it began to blow very fresh from the south-west. We then close-reefed, our topsails, furled the mainsail, and endeavoured to reef the foresail, but, failing in the attempt, were, compelled to furl it. Things continued in this state till two a.m., on Monday, when the wind changed to the west and blew a perfect hurricane, carrying away our fore and mizen-topsail-yards taking the main-topsail, clean out of the bolt-rope, and blowing the courses, though furled at the time, into the merest ribands. At daylight we found, also, that our ore-yard was very badly sprung. During the whole of this day, we were employed in clearing the wreck, and wearing the ship every four hours. About two, a.m., on Tuesday, we succeeded in bending a new foresail to run up with, about daylight; and when daylight came, we made every effort to regain the harbour, keeping an anxious look-out for the lightship, and following in the track of the Lockwoods, which kept about half-a-mile ahead of us; but being perfectly bewildered by the absence of the light-ship, we dropped anchor abreast of Hoylake beach, two or three miles from shore. When, however, we had got about thirty fathoms of cable out, the chain snapped, and the ship, after drifting for twelve minutes to leeward, struck very heavily on Hoyle Bank, and, after thumping eight or nine times, filled. When she had thumped two or three times, the first and second mates, five of the crew, and five passengers, went off in the jolly-boat. As soon as she filled, we cleared away the long-boat, but, to our consternation, we could not find lines to hoist her out with; and, just as we were straining every nerve to hoist her out by main force, the vessel shipped a heavy sea, which stove the boat, and bruised Captain Smith very much, on which he made an attempt to spring into the main-rigging, but failing, he fell down between two water-casks, when she shipped another tremendous sea, and Captain Smith, exclaiming "Oh my God," was washed overboard, and never seen more. This was at three o'clock, p.m. Just before the last sea came, I ordered the men into the rigging, to save themselves, if possible, and I followed them myself, when we finally took to the main and mizen-tops, and wrapped ourselves up in sails for preservation from the weather, and in this condition we remained until half-past ten, a.m., on Wednesday, when we were rescued from our perilous situation, and put on board the Victoria steam-tug, which brought us all to Liverpool, except three of the crew, who were starved to death in the rigging during the night. "I ought to observe, that the Magazine life-boat, would not have attempted to render us the least service if they had not been shamed into doing so, by a small green gig, which succeeded, after a desperate effort, in reaching us."

---
IP: Logged